5 Reasons to Buy From Your Local Dive Store!
Expert Advice

Odds are your dealer is a seasoned diver with years of dive experience. Take advantage of that experience and ask questions.

Hands-on Inspection and Choices

Seeing a photo and reading a product description online is fine, but seeing, handling and asking questions about a product in person can't be beat. Considering a new mask, BC or drysuit? Nothing compares to having several models side by side and then trying them on.

Need your tank filled or a rental?

Try ordering 3,000 PSI of air or renting your gear over the internet! Without your local dive store, there is no diving! So it's in your best interest to support your local dive store!

The Learning Experience

Dive stores offer learning resources for both beginners and experienced divers. These classes, pool sessions and open water dives will never be offered online.

Deals

Dive store owners like to keep their customers happy with great deals. Make a friend of your local dive store and dealer! Support your local dive store and you will be surprised at how much they will support you if you give them the opportunity!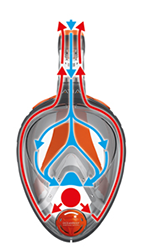 SNORKEL & BREATHE LIKE MOTHER NATURE TAUGHT US
Goodbye jaw discomfort, goodbye difficult breathing and goodbye water in your snorkel. For good. With the Aria you breathe through your nose, while the dry top prevents water from getting in the snorkel. Now your mouth is free to say: WOW!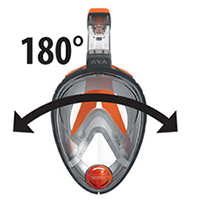 AUGMENTS YOUR FIELD OF VISION, THE MOST!
Aria has the largest field of vision of any mask out there. To that we added light colors for the brightest experience ever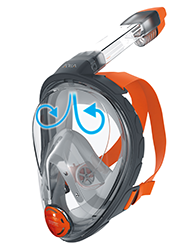 NO MORE FOGGING PROBLEMS
Goodbye defoggers, hassles and lost opportunities to see the fish of a lifetime. Aria's breathing circulation inside the mask's frame guarantees no fogging and no extra stress. Just take it out and jump in.
YOU CAN EVEN ATTACH A CAMERA TO YOUR ARIA - THE ONLY FULL FACE SNORKELING MASK WITH ACCESSORIES! ARIA has a whole accessory product line (ACCESSORIES SOLD SEPARATELY) that make it versatile and entertaining while solving your needs. Corrective lens? We got them! Sport Camera mount? We got that! Colored Straps, Selfie stick, discover the whole line!!