May Classes:
Open water:
May 5,6
May 19,20
Nitrox:
May 18 (night)
Checkouts:
May 26,27
June Classes:
Open water:
June 2,3
June 9,10
Nitrox:
June 8 (night)
Checkouts:
June 23,24
Advanced:
June 30, July 1
July Classes:
Open water:
July 7,8
July 14,15
Nitrox:
July 13 (night)
Checkouts:
July 21,22
Advanced:
July 28,29
Get a discount with combined classes!
Nitrox scheduled to fit your needs
...and more classes.
Oceanic and Sherwood BCs
20% off
*instock
Be qualified, not just certified!
INTOVA X2 Camera
*In-stock
A brighter world with the click of a button. Intova's X2 Waterproof Action Camera is the first in its class to offer a built-in 150 lumen light that can be used as a flash for photography or as a constant light for video. Capture high-definition 1080p video and stunning 16MP photos of any adventure including low-light, evening and night settings.
1080p video resolution at 60 FPS
16MP Photo resolution
Built in 150 lumen photo flash/video light
Wide Angle Lens
Fully waterproof to 330′ (100 m)
Rechargeable and removable Li-ion battery (up to 2 hour battery life)
WIFI remote app available (iOS or Android) smartphone or tablet
Built-in 2" TFT LCD screen
Compatible with 64GB MicroSD card (not included)
...for more information...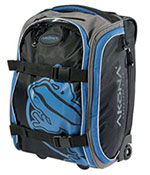 <7 LBS Roller Bag
Carry-On has a new shape and 11% increase in capacity.
Meets most airline requirements for a carry-on case
New office organizer pocket
"Whisper Roll" wheels
Stiffeners in the piping help keep the bag open, making packing simple and easy
Exterior dimensions: 24 x 14 x 10
Weight: 6 lbs, 8 oz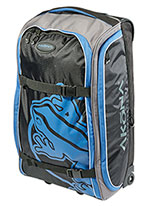 <10 LBS Roller Bag
Carry-On has a new shape, cutting-edge graphics and 13% increase in capacity.
Holds a full set of dive gear and then some
Right side fin pocket
Wide stance and low height give the bag balance and design
"Whisper Roll" wheels
Exterior dimensions: 30 x 18 x 10
Weight: 9 lbs, 8 oz
Kraken NR-1200 Dive Light
The NR-1200 is everything you need for a recreational dive light. Compact and tough. The perfect addition to any dive kit. This light uses a new style 18650 rechargeable battery with built in USB charger. Simply plug in any microusb cable directly in to the battery to get it charged. We have included a regular style cradle too so you can charge either way.
Max brightness:
1200 Lumens
Beam angle:
10º
Color temperature:
6000-6500K
Modes:
3 x White, Blink, SOS, and Strobe
Burn time:
90 minutes
Power source:
1 x 18659 Li-ion Battery
Switch:
push button with battery level indicator
Waterproof:
100m / 330ft
Fully change time:
3.5 hours
Lithium battery with micro USB charging port
Aviation grade anodized aluminum
Lightweight and compact design; less than 6" long
...for more information...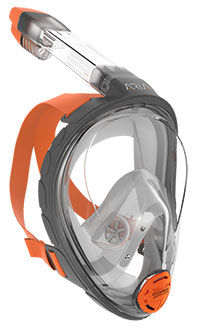 Ocean Reef Aria
SNORKEL & BREATHE LIKE MOTHER NATURE TAUGHT US. Goodbye jaw discomfort, goodbye difficult breathing and goodbye water in your snorkel. For good. With Aria you breathe through your nose, while the dry top prevents water from getting in the snorkel. Now your mouth is free to say: WOW!
AUGMENTS YOUR FIELD OF VISION, THE MOST! Aria has the largest field of vision of any mask out there. To that we added light colors for the brightest experience ever.
NO MORE FOGGING PROBLEMS. Goodbye defoggers, hassles and lost opportunities to see the fish of a lifetime. Aria's breathing circulation inside the mask's frame guarantees no fogging and no extra stress. Just take it out and jump in.
YOU CAN EVEN ATTACH A CAMERA TO YOUR ARIA. The Aria is also equipped with a dock for sport cameras – you can record and relive your experience any time you want. Just take it out and jump in.
...for more information...
SeaLife Micro 2.0 WiFi
Point. Shoot. Enjoy.
Small and ergonomic, the Micro 2.0 camera is easy to handle underwater, operating with three wide "Piano Key" controls. Features a 16MP SONY® CMOS Image Sensor for stunning still images, full 1080p HD video and a built-in 130-degree Fisheye Lens, the Micro 2.0 provides everything needed to capture and share your underwater encounters down to 200 feet/60 meters.
Permanently sealed and flood proof
The Micro 2.0 has no doors or openings that could possibly leak. With 64GB of onboard memory, high capacity internal battery and WiFi, there's no need for memory cards, batteries, O-rings, or maintenance.
...for more information...
Atomic T3 Regulator * In-stock
The T3 forges a new Titanium standard as the absolute finest regulator you can own, regardless of price. The T3 is our signature regulator, providing you unprecedented reliability and performance. Amazing light weight and dependable materials makes it the perfect choice for travel. You'll dive confidently in exotic locations, where service is hard to find.
3-Year / 300-Dive Service Interval Non-contingent Lifetime Warranty
Dive more and wait longer between recommended servicing. The Lifetime Warranty is not contingent on service.
LIGHTER component parts
The first-stage yoke is designed using minimal material. All second-stage component parts have been optimized to make the T3 the lightest regulator in the world.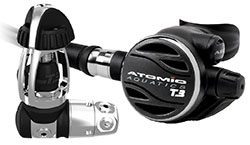 ...for more information...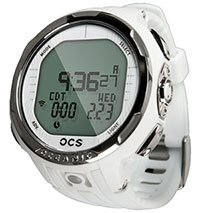 Oceanic Geo 2 * In-stock
The Geo 2.0 includes Dual Algorithm, Deep Stop option and a redesigned user interface with "Step Back" – which allows forward and backward navigation through menus and settings. Additionally, a second Nitrox mix (both programmable to 100%) is available, as well as Firmware Auto-Update which allows the user to download and install operational improvements or even future new features through the PC Interface (with optional cable). With Dual Algorithm and optional conservative factor settings, the Geo 2.0 may be programmed to provide no-deco and deco profiles similar to virtually every computer on the market.
...for more information...
Liquivision Lynx AI Computer
*In-Stock
The only dive computer that combines the exceptional readability of an OLED screen with wireless air integration and our intuitive patented menu-based tap navigation. It is all you ever wanted, all you ever needed and more:
Allows up to 3 gases (air and nitrox 21-100%)
Monitoring of air supply and location of up to 10 divers within a range of up to 330 ft / 100m
Digital compass
Dive planner and dive simulator
Dive logging
Visual indicators of air-time remaining
Find your way back to the boat*
Receive messages from the boat operator**
Bungee & stretchy strap included
Computer connectivity (PC/Mac)
...for more information...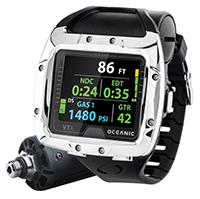 Oceanic VTX Computer
READY, SET, DIVE.
The future of personal dive computers powered by OLED color display and Bluetooth technology has arrived. Oceanic is proud to introduce the VTX.
With an easy-to-use interface, amazing readability, powerful features, and simplicity at its core, VTX is the new benchmark for modern dive computer design.
ultra-bright high contrast full color OLED Display
first dive computer engineered to take full advantage of Bluetooth 4.0 technology
new, intuitive menu structure of the VTX makes managing your settings on the fly and interfacing with the unit during a dive a thing of beauty
Pelagic DSAT safely maximizes dive times for repetitive, multi-level recreational diving
...for more information...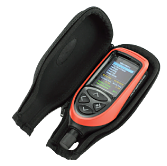 Atomic Cobalt 2 In-Stock
The Cobalt 2 is the newest release of our new generation of dive computers that are easy to use, easy to read and totally intuitive.
The Cobalt 2 features a newer more powerful microprocessor, faster compass response and new user options such as auto screen brightness. User selectable gas switches are increased from 3 to six mixes.
...for more information...